Springfield, Illinois
BTL EMSCULPT NEO
If you are in search of a solution to melt away stubborn fat and tone your muscles all in a single treatment, you may want to consider BTL EMSCULPT NEO.
The exciting technology offered by your trusted team at Aesthetics-Wellness at Ophthalmology Center of Illinois treats the most diet and exercise-resistant areas, leaving you with more muscle mass and less fat!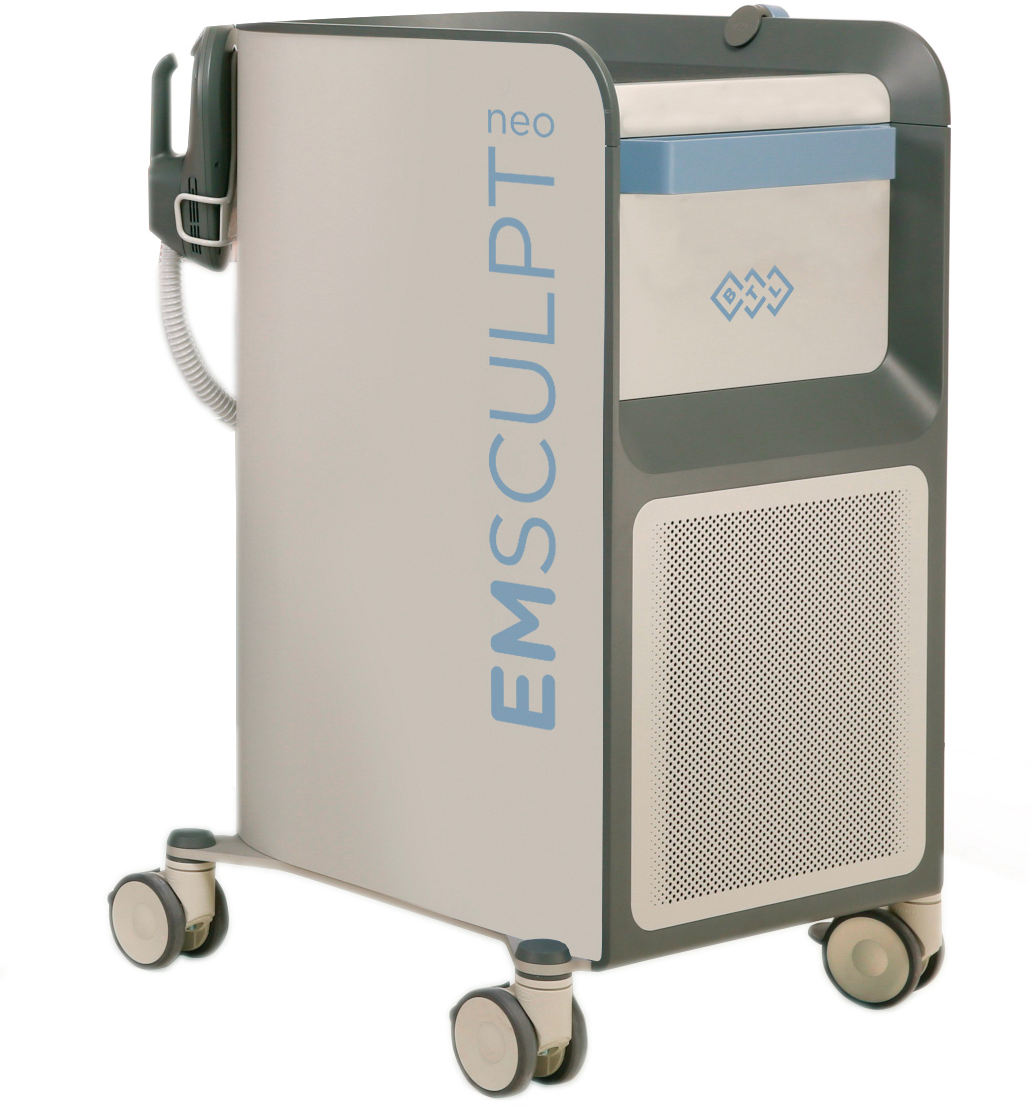 Aesthetics-Wellness is proud to offer the first and only non-invasive body shaping and contouring procedure that simultaneously eliminates fat and builds muscle.
Restore your natural beauty without surgery or downtime!
● Fully customized treatment
protocols
● Two therapies in a single
procedure
● Safely treats most problematic
areas of the body
● No pre or post-treatment
preparation
● Minimal pain, discomfort, or
downtime, if any
● Tangible results seen right
after treatment
Groundbreaking muscle-building and fat-reduction technology!
Is EMSCULPT NEO Right for You?
EMSCULPT NEO is ideal for anyone looking for solutions to reduce fat and build
muscle. Wanting more defined abs or a non-invasive booty lift? EMSCULPT NEO may
be the perfect solution for you.
Our experienced providers at Aesthetics-Wellness will
work with you to create a custom treatment plan to address your unique needs.
Keep in mind that results may vary from person to person.
EMSculpt NEO
Radiofrequency and HIFEM+
Cutting-edge technology that builds muscle and removes localized fat.
● Quick, 30-minute procedure
● Body contouring like no other
● Simultaneously build muscle and reduce fat
● Permanently damages fat cells
● 30 percent fat reduction on average
● Contracts muscle fibers at intensities not
achievable during a regular workout
● 25 percent muscle mass gain on average
● Real, long-lasting results
EMSCULPT NEO is a groundbreaking technology that's FDA-cleared to safely and
effectively improve muscle tone, build muscle, increase muscle strength, and reduce
subcutaneous fat. Treatment areas include the abdomen, buttocks, arms, thighs, and
calves.
EMSCULPT NEO is the first and only non-invasive body shaping treatment that uses
radio frequency energy to heat and reduce fat coupled with high-intensity focused
electromagnetic energy (HIFEM) to improve muscle tone and strength.
The revolutionary technology produces more subcutaneous fat reduction and muscle growth
than any other device in much less time. Best of all, it is suitable for treating patients
with a BMI of up to 35.
Radiofrequency heating raises the muscle temperature by several degrees, preparing
the muscles for exposure to stress, similar to a warm-up activity before any workout. In
less than four minutes, the subcutaneous fat temperature damages fat cells, which are
naturally removed from the body. Meanwhile, HIFEM energy stimulates supramaximal
contractions in the underlying muscle at intensities not achievable during workouts. The
result? A significant increase in the number and growth of muscle cells and fibers.
Aesthetics ~ Wellness is pleased to introduce the Edge applicator, the newest addition to the EMSCULPT NEO non-invasive body sculpting therapies. What sets the Edge applicator apart is its sleek design for better contouring of curvy areas of the body, such as the lateral abdomen, love handles, or flanks.
The EMSCULPT NEO Edge applicator leverages the existing EMSCULPT technology and combines it with state-of-the-art applicators to target areas of the body that were previously impossible to access. The revolutionary applicator utilizes radio frequency and HIFEM technology to simultaneously address fat deposits while increasing muscle mass and tone on the lateral abdomen.
With the exciting addition of the Edge applicator, BTL continues to raise the bar in the aesthetics industry. The one-of-a-kind device accounts for all 360 degrees of the abdominals, treating more key muscle groups than any other available non-invasive treatment. At Aesthetics ~ Wellness, we continue to offer leading-edge body sculpting and contouring solutions to deliver unmatched, long-lasting results.
The New Edge Applicator and Your Health
As the years go by, men and women tend to accumulate more weight in the midsection and love handles, making it more challenging to maintain a toned and sculpted appearance. The oblique muscles, located on the sides of the abdominal area, are especially difficult to isolate with exercise.
EMSCULPT NEO's new sleek Edge applicators decrease the midsection fat and boost your core strength. That helps deliver a beautifully contoured appearance and a noticeable improvement in posture, balance, strength, back discomfort, and confidence.
Are You a Candidate for EMSCULPT NEO Edge?
Most healthy adults who want to reduce fat and muscle along the lateral abdomen are perfect candidates for EMSCULPT NEO Edge treatment. The best way to determine if the revolutionary body contouring solution is right for you is to consult with our expert providers at Aesthetics ~ Wellness. We will evaluate your unique needs and help you determine the best solution to deliver your desired results.
The EMSCULPT NEO procedure is a painless one. You may feel a warming sensation
and your muscles contracting, but you should not feel uncomfortable. You should see
tangible results right after treatment, similar to an intensive workout.
The number of treatments required will depend on your unique needs and goals.
However, most individuals require 4 to 6 sessions of EMSCULPT NEO over 4 to 6
weeks, followed by maintenance sessions every 6 to 12 months as needed.
Visible
muscle toning results are usually apparent two to four weeks after your last treatment
session, while fat reduction results appear 8 to 12 weeks after treatment.
On average,
one series of treatments increases muscle by about 25 percent and reduces fat by
about 30 percent in the treated areas.
EMSculpt NEO Near Me
Contact Aesthetics-Wellness in Springfield, IL, to learn more about EMSculpt NEO,
our non-invasive solution for fat reduction and muscle toning with dramatic results that last.
Speed up your journey to your dream body!
Call us at 217-679-3598 and schedule
your consultation today!
Request Your Consultation
We invite you to conveniently schedule your appointment. Follow the appropriate link to request a time that fits your busy schedule! We look forward to enhancing your natural beauty! We can't wait to see you!