Springfield, Illinois
BTL EMFACE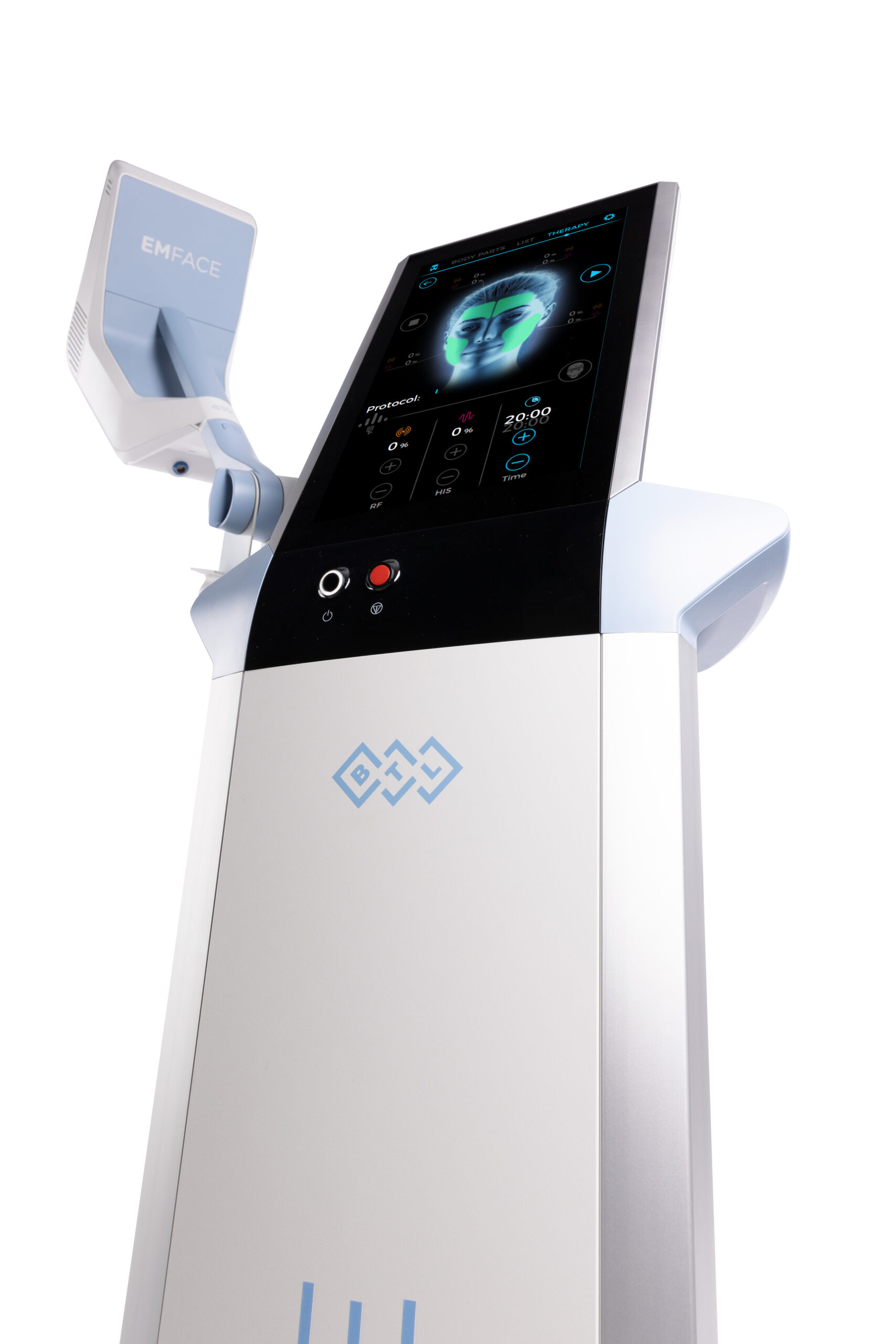 Aesthetics-Wellness is proud to offer the first and only device capable of lifting and toning the face with no needles, toxins, or downtime!
Fewer wrinkles and more lift without needles or surgery!
● Fully customized treatment
protocols
● Two therapies in a single
procedure
● Completely non-invasive
treatment with no downtime
● No pre or post-treatment
preparation
● Provides a beautifully lifted
appearance
● Incredibly natural-looking
treatment results
Groundbreaking facial rejuvenation and definition technology!
Is EMFACE Treatment Right for You?
Your trusted experts at Aesthetics-Wellness will evaluate your unique needs and
recommend the best custom solutions to deliver your desired treatment outcomes.
Keep in mind that results may vary from person to person.
BTL EMFACE
Radiofrequency and HIFES Technology
Breakthrough technology that takes muscle contraction and facial rejuvenation to the next level.
● Non-invasive facelift
● Full-face treatment in just 20 minutes
● Needle-free facial toning
● Simultaneously affects the facial skin and muscles
● Reduces the telltale signs of the facial aging
process
● Boosts the production of collagen and elastin fibers
● Increases the density and quality of the facial
muscle structure
● Restores and elevates the support of the facial
tissues
● Reduces wrinkles, lifts sagging facial skin, and
enhances facial volume
● Provides lasting results with a natural look and feel
EMFACE is the first and only non-invasive, needle-free device that simultaneously uses
radio frequency (RF) and High-Intensity Facial Electrical Stimulation (HIFES) to reduce
the appearance of wrinkles, tone the facial muscles, and provide a dramatic lift, all at
the same time. The innovative device does all this while activating and contracting
individual facial muscles.

But how exactly does EMFACE work? Synchronized RF energy and HIFES work
simultaneously to lift the most prominent parts of the face without needles. The RF
heating boosts facial collagen and elastin production while the HIFES emits thousands
of pulses each treatment session to contract and tone the delicate facial muscles. The
result? Fewer lines and wrinkles and a noticeable lift without surgery or needles!
EMFACE treatment feels like a relaxing facial massage with a warming sensation in the
treatment areas. Many of our patients find their 20-minute treatments an excellent
opportunity to relax while shedding years off their appearance. The non-invasive
procedure rejuvenates the forehead, eyebrows, cheeks, and jawline with dramatic
results that last. EMFACE is non-invasive, so you will not need any recovery or
downtime after the procedure.
Clinical studies show that people receiving EMFACE treatment enjoy 37 percent fewer
wrinkles, a 30 percent increase in facial muscle tone, and 23 percent more lift.
Moreover, about 92 percent of patients experience volume improvement with an
average 27 percent increase in collagen and a 110 percent increase in elastin fibers.
EMFACE boasts over 95 percent patient satisfaction!
BTL EMFACE Near Me
Contact Aesthetics-Wellness in Springfield, IL, to learn more about BTL EMFACE, our
non-invasive solution for total facial rejuvenation with dramatic results that last.
Are you ready to turn back the hands of time and recapture your youthful radiance?
Call us at 217-679-3598 and schedule your consultation today!
Request Your Consultation
We invite you to conveniently schedule your appointment. Follow the appropriate link to request a time that fits your busy schedule! We look forward to enhancing your natural beauty! We can't wait to see you!